Hey… today i will give you a small overview of tools we use to solder.
First important thing:
The solder-station
You dont have to buy such a expensive station where you leave a few hunderd bucks in the store. Search for a small station in the net.
Digital Temperature reading is a must have. Besides it should have a changeable needle and a temperature area up to 400°c.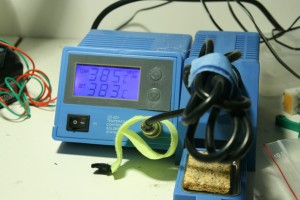 I bought one on ebay for about 40Eur and it works excelent for a year now.
Good Solder Wire:
Buy a good Solder-wire. Dont skimp on it. If you buy cheap solder-wire your results will look cheap too.
Working with cheap solder-wire can be boring, stressfull and annoying. So spend a few bucks on a good roll of solder-wire.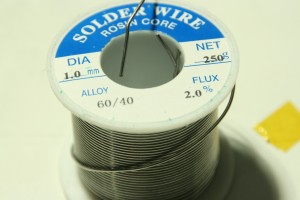 To solder small PCBs you could use a wire with diameter 1 mm. Soldering big parts need a few more. For those cases you should have a thicker piece at home, if you have to solder different things regulary.
Desoldering pump:
Costs about 5 Eur. But its worthe on weights in gold.
I dont know how often i was glad to have this tool while soldering.
If you see it cheap in a store. Grab It!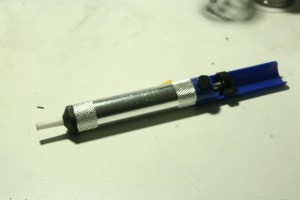 Helping hand – stand:
Most of the time i dont use a stand for soldering. But in a few cases its necessary.
Not all the time there is a human helping hand in reach.
A few helping hands have a arm with a loup. Pretty nice for checking soldering points.
Ben